COVID-19 UPDATE
Multiple Choices is taking the CDC recommendations seriously. We are currently open by appointment, or you can reach out to us by email. See the addresses below. Until the pandemic passes you can contact us here:
---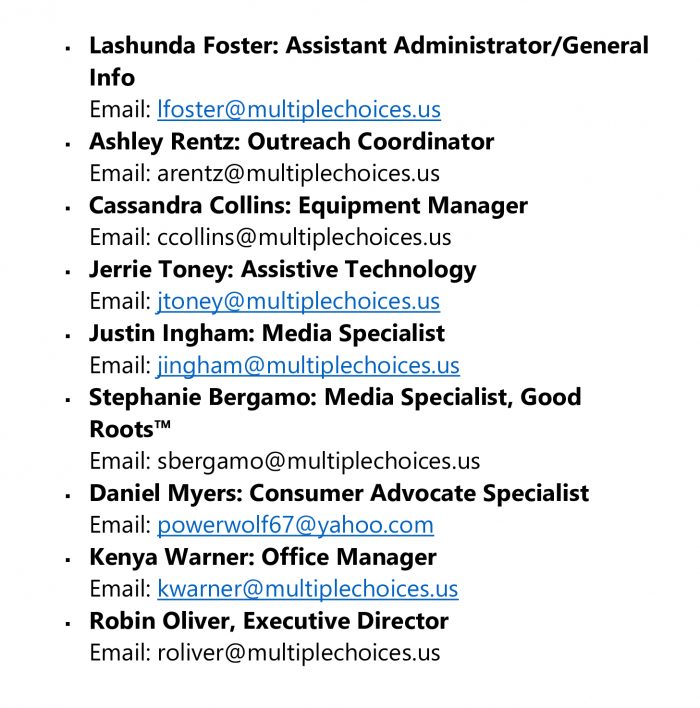 Disability Resource Center in Athens, GA
Multiple Choices Center for Independent Living is a multi-service nonprofit agency of disability advocates specializing in assisted living, serving disabled individuals throughout a 10-county area of Northeastern Georgia. Our services include advocacy, peer support, information and referral, independent living skills training, assistive technology training and more. Turn to us for support and guidance in living a full and happy life, regardless of your disability.
Providing You Essential Disability Resources
Living with a disability comes with challenges—some physical; some social. Multiple Choices Center for Independent Living works hard to help disabled individuals bridge the gap between their reality and the life they want to live. Our disability resource center serving Athens, Clarke County, Watkinsville, Atlanta, and Danielsville, GA provides a broad scope of services and programs designed to provide measurable benefit to those seeking help.
Our primary role is as a support system of assisted living for people who need help. We provide everything from information and referrals, to advocacy, to peer support and beyond. We're also available to help with things like home modification, transportation and even micro-enterprising. Any way that we can help, we will. We exist to provide complete disability resources in Athens, GA to individuals who may have nowhere left to turn or trouble getting the help they need. We help anyone, regardless of disability, from children to older adults.
In addition to resources, we also host programs and provide training to empower individuals. Our assisted living center teaches braille, introduces people to assistive technologies and even provides computer training as a form of job preparation. For our aging customers, we're available for nursing home transitions to ease the stress of the situation. For younger customers, we'll help you bridge the gap into adulthood by teaching you important life skills.
No matter the person, no matter the disability, our disability advocates will do everything in our power to help you build the life you deserve to have. Let us help you be independent, confident, gainfully employed and proud of the person you are.
We provide services and resources to a huge 10-county area of Northeastern Georgia that addresses as much as 22% of the total statewide population!
Our focus is on giving the people we serve everything they need to thrive. This includes advocacy, peer support, info and referral, independent living skills training and more.
We welcome individuals with all types of disabilities and take the time to help you understand how to turn your disability into your strength.
We're a 501(c)(3) nonprofit organization, part of a statewide network funded by the U.S. Department of Education, Office of Special Education.
We're affiliated with the Statewide Independent Living Council of Georgia (SILC) and a proud advocate for the citizens of Georgia.

Our Mission
The mission of our disability advocates at Multiple Choices Center for Independent Living is to break down barriers and enhance the quality of life for people living with disabilities—including veterans—empowering them through advocacy, education and training.

Vision Statement
All people living with disabilities have the right to life, liberty, and the pursuit of happiness through equal access to all aspects of society.

Get the Assistance You Need
If you're living with a disability, know that there's always help, resources and opportunities waiting for you at Multiple Choices Center for Independent Living. Contact us to learn more.
---
Proudly serving the following Northeast Georgia Counties:
Barrow | Clarke | Elbert | Greene | Jackson | Madison | Morgan | Oconee | Oglethorpe | Walton
---